Tibetan Gentian, 2013 Featured Herb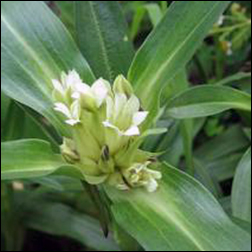 Tibetan Gentian
This rare and beautiful Gentian specimen originates from the foothills of the Himalayan Mountains of Western China and Tibet and is commonly found at the forest's edge. Worldwide the Gentians are popular medicinal plants, yet it can be quite difficult to grow and be successful in a garden situation. The Tibetan Gentian seems to adapt quite well to a lower elevation setting and is a rare and beautiful addition to the herbal garden.
Gentian root has been used historically as a digestive bitter which stimulates bile production and enhances liver function. Regular use of digestive bitters can increase appetite and make the digestive process more efficient. In our world today, there are very few bitters besides coffee, which people take in regularly, and digestive complaints are extremely common. The American diet is heavy on fried foods, trans-fats, and sugars that puts tremendous strain on the digestive organs. A digestive bitter formula can be very helpful as part of a transition to a healthier diet. Bitters can help to lessen sugar and carbohydrate cravings and help the liver and gallbladder to process fats more efficiently. A traditional remedy for "Wasting Disease", Gentian root as a bitter will stimulate a healthy appetite and encourage digestion. In Traditional Chinese Medicine Gentian root is used to treat Arthritis and is specifically indicated when damp heat affects the liver and gallbladder systems.
The Tibetan Gentian forms a very pretty rosette with it's almost tropical looking leaves which give rise to a two foot greenish cream colored bloom. The plants are very forgiving and are tolerant of many different soil types. They do very well in containers and work nicely on a shady deck or balcony. In a hot summer climate they need to be in partial shade, but in more temperate coastal areas full sun is fine. They are somewhat tolerant of dry conditions but enjoy regular watering and do best in a moist, partly shaded environment. Very resilient to pest problems, the Tibetan Gentian is a beautiful, worthy and rare plant to add to any herbal landscape.
Hardy perennial to Zone 4 ($8.50).
To Order Tibetan Gentian click here.

Medicinal Herb Plants
---
---
Follow Us On

© 1998-2013 by
Medicinal Herb Plants &
Crimson Sage Nursery
All Rights Reserved